Packing:
25kg/1000kg in Plastic Woven Bags with PE Lining
Loading:
27mt/20fcl′; 25mt/20fcl′ with Pallets
Chemical Formula:
Feso4.H2O
Transport Package:
25kgs in Plastic Woven Bags with PE Linning
Product name: Best Selling Ferrous Sulphate Monohydrate 91%Min Feed Grade Animal Nutrition Feed Additives
Chemical formula: FeSO4. H2O
CAS: 13463-43-9
Molecular weight: 169.92
Product photo:Â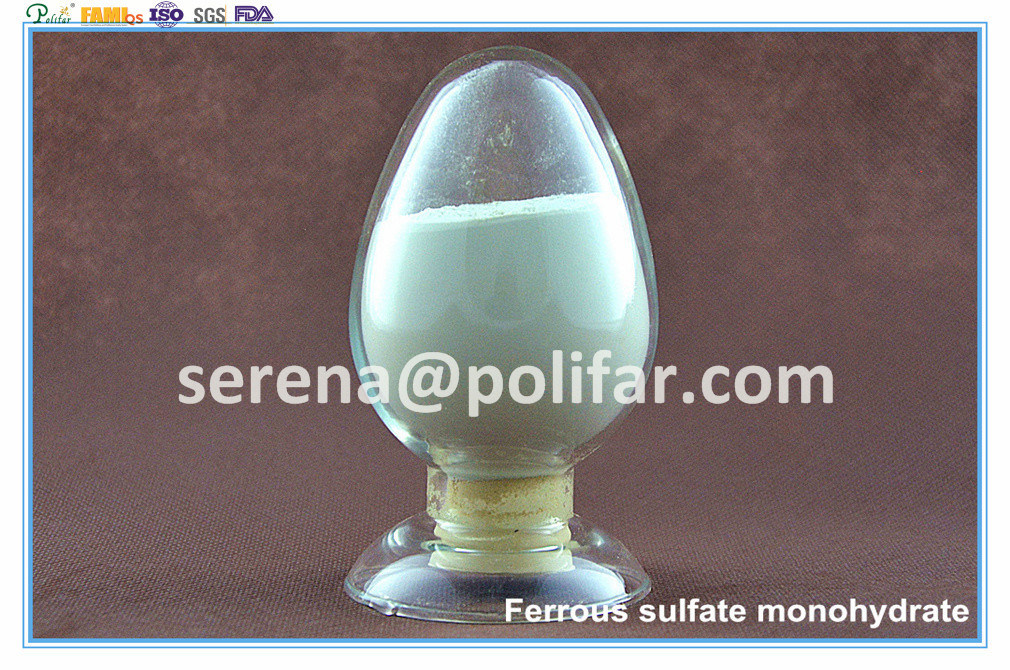 Product performance: Fe is the forming element of many enzymes and hormone, and participates in metabolism of protein, carbohydrate as well as lipid. When lack of Fe, animals exhibit inappetence, slow growth, thick and disorderly clothing hair, depiation, dry and chappy skin and unease-cure wound. Adding high dosage Fe in initial feed for sucking can reduce diarrhea and increase weight.
Description: It is mainy used as nutritional additives in animal feed and fertilizer in agriculture. It is also used in synthetic fiber industry, preservative, material of printing and dyeing and be used in medical for fungicide and emetic, and in electroplate, water purifiction etc.
Storage: Stockpiled at the ventilated place, avoiding rain, moisture and insolation. Please handle with care to prevent bag damage, store away from toxic substances.
Packing: Net 25kg/1000kg in Plastic woven bags with PE lining
Loading: 27MT/20FCL'; 25MT/20FCL' with pallets
Expiration date: For two years
| | | |
| --- | --- | --- |
| Testing Item | Â Standard | Result |
| Purity | ≥91% | 91.35% |
| Ferrum (Fe) | ≥30% | 30.22% |
| Arsenic (As) | ≤5PPM | 1.17PPM |
| Heavy Metal (Pb) | ≤20PPM | 10.00PPM |
| Cadmium(Cd) | ≤5PPM | 1.00PPM |
| Water Insoluble | ≤0.5% |  0.3% |
| Size(Pass 0.5mm) | ≥95% | PASS |
Contact:
Ms. Serena: serena@polifar.com 
Polifar Group Limited 
T: 86-25-83463431
F: 86-25-83475209
Advantages of solar flood lights
1. Electricity and money economy On of main advantages for using LED solar flood lights is efficiency and power economy. They have a solar panel set with LED light that accumulates solar energy on what light can be powered whenever needed. Running on solar energy means that you do not have to pay anyone for electrical power, solar energy is free for everyone. This means saving up money and cutting on electrical bills.
2. Can work in places and areas with no reachable electrical power Other advantage of solar lights is that they can be used in areas where other electrical source to power light can not be reachable. This can be good for outdoor places like gardens, backyards or sheds, or other places without electricity. At home a nice option would be to use LED solar flood light as a front door or garage light combined together with motion detector to save up more energy and provide longer work time with one charge at time.
3. Using alternative energy – environment friendly Even if you are not all into green lifestyle, it is good to consider a little bit about environment around you. And solar lights are one of many things, that can actually help environment by using alternative energy. It may not sound interesting, but it is certainly an advantage for solar lighting and green thinking.
Solar Flood Lights,Solar Flood Light With Camera,Solar Flood Light For Flagpole,Solar Flood Light Motion Detector Weatherproof
Jiangmen Biaosheng Solar Energy Technology Co., Ltd. , https://www.bsprosolar.com